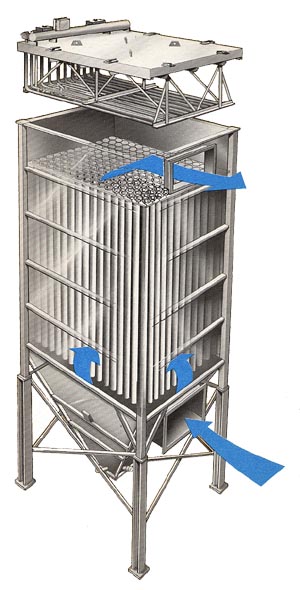 The basic operation of the unit is the same as the standard 90P collector which uses high pressure pulse air to clean the bags. However the specific needs to properly handle fragile woven fiberglass and other high temperature filter media is engineered into this design.
Oversize tube sheet holes allow for easy insertion and removal of the filter bags. The clamped air inductor holds the bag and cage steady, preventing bag to bag abrasion. Bags are clamped to the cage, not to the tube sheet, in order that the bag and cage cannot be frozen to the tube sheet. A one piece lift-off roof door with integrated header and laterals provides easy access to the tube sheet, bags and cages.
The standard roof door design is frequently used with a separate weather enclosure allowing weather protection for easy and secure maintenance. Conventional walk-in plenums are also available.
Typical Applications
Boilers and steam generators (all fuels)
Incinerators
Process hot gasses (ferrous and non-ferrous)(i.e.,electric furnaces, smelters, roasters, kilns, metallurgical refining, process, scarfing, melt shop, cast house, tapping/refining, blast furnaces, BOF/BOP, coke pushing, sintering, quenching/drying etc.)
Pyro processing kilns(i.e.,line, cement, Kaolin, aggregate, etc.)